Why choose Karndean?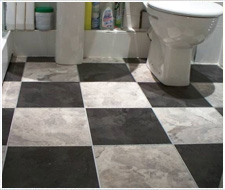 Karndean flooring ranges replicate the look and feel of natural materials; such as - slate, marble, glass, limestone and wood. Made from an exceptionally durable form of customised vinyl, both floor types come without the draw backs of some natural products and are much warmer and quieter under foot.
Karndean floors are lower in cost without a loss of quality, making them the ideal choice for any living space. Both floor types come with a manufacturers durability warranty.
It is imperative that your floor is prepared to a high finish before the initial lay in order to ensure that the manufacturers guarantee is upheld. We supply all the prep materials and use specialist equipment as directed by Karndean. We supply the following:
Primers
Screed (water based)
All types of adhesives
Door trims
All WPB (water proof and boil proof) ply
Feather Finish
Karndean Flooring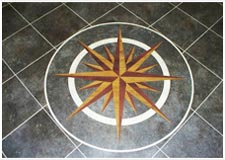 Is made from an exceptionally durable form of customised vinyl, Karndean flooring replicates all the beauty of natural flooring materials with none of the practical drawbacks. Whilst being virtually indistinguishable from the materials which inspire the designs, it offers significant advantages in terms of design capability, maintenance and cost. Karndean can be used anywhere in the home from hallways, kitchens, bathrooms, lounge and conservatories.
For luxury vinyl flooring look no further than Karndean International. Some of their product range includes Knight Tile, Renoir, Da Vinci, Van Gogh and Art Select. Karndean floors are durable and low maintenance.